Framing Reality and How It Matters in a Shared World
American Society for Cybernetics 2018 Conference
August 15-19, Chicago Illinois
Conference begins the night of August 15 and ends with an informal breakfast on August 19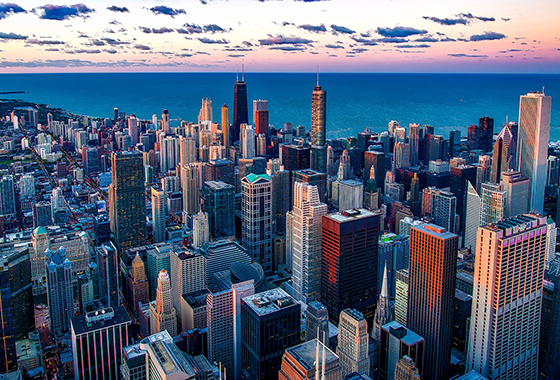 Framing Reality and How It Matters in a Shared World
We each frame how we look at the world in conjunction with our assumptions, tools, models, and narratives. These frames, in turn, affect what we perceive to be our available actions. The public and the media have started to become increasingly aware that these frames matter. When narratives are in conflict, the possibilities for cooperative action decrease. There is a circular relation between the narratives we tell to explain the world, those aspects of the world we choose to pay attention to, and the actions we see as viable next steps. These circular relations extend to the others we interact with — groups, communities, teams, organizations — making what we share and where we disagree vitally important.
All disciplines deal with similar issues, such as how methods and assumptions affect results, how results are used by society, how design and investigation are linked, and many others. In the academic world, disciplines are becoming more open to examining their ways (often hidden in plain view) of investigating the world and the perspectives which result. In the "real" world, framing and perspectives often take the form of narrowing the context being attended to, the opportunities for action which are perceived as available, and the stories told to explain actions taken. The impact of these constructed realities — individual and shared — is highlighted by the role technology now plays in our world. Our most prominent technologies are shaping how we go about creating and sharing narratives.
We invite researchers and practitioners from psychology, design, cognitive science, education, feminist studies, the arts and media and communications studies, science, technology and society studies, systems science, cybernetics and other fields to consider how their methods of inquiry and perspectives make a difference both within their disciplines and in the world at large. Publication opportunities will be available in several academic journals and an edited book.
Note to those new to ASC:  We will have sessions each day devoted to hearing your perspectives and insights — how you frame the world can help inform all of us.
Schedule
You can find the conference schedule in PDF format here.
Pre-Conference Event
The Conference Event starts at noon on Wednesday, August 15, 2018 at Fado's Irish Pub on the Mezzanine Level, 100 W Grand Ave, Chicago, IL 60654. The event begins with lunch and allows us to order drinks until we end at 4:30 pm. Larry Richards and Stuart Umpleby will be leading a discussion about the basics and uses of second order cybernetics. PLEASE INVITE YOUR FRIENDS – THIS PRE-CONFERENCE EVENT IS FREE.
Closing Dinner
The Closing dinner will be held at Mannies Delicatessen 1141 SOUTH JEFFERSON STREET on Saturday August 18, 2018 beginning at 6 pm. We are starting early so that those who wish to see the fireworks at the Navy Pier (10:15 pm) will have plenty of time to get there.
We will gather for a final discussion in the University Center food area on Sunday morning August 19 at 10am.
Accommodations
Venue: University Center, 525 South State St, Chicago, Illinois 60605
Phone: 312.270.2307
The ASC has secured 20 rooms at the conference site at the ASC rate of $125 per night for either a single or a double room. (Four nights totaling $500. A double then can be shared for a total of $62.50 per night per person.) ASC is offering these on a first come, first serve basis. Note that these are dorm rooms with single beds, but they are in a beautiful building in the heart of Chicago's downtown lakefront area (see attractions below). Parking is available at the University Center at reasonable rates.
To reserve a room at the ASC rate,
Email ASC Treasurer Art Collings at treasurer@asc-cybernetics (or otter@mac.com) as soon as possible.
Art will send you an email confirmation and an invoice via PayPal.
Rooms at the ASC rate will be reserved for the first 20 people (or pairs) who provide payment via PayPal. If we receive more than 20 responses, we will be putting the additional requests on a waiting list. Please respond as soon as possible in order to guarantee this rate.
All requests must be pre-paid before we can reserve them. Refunds are not guaranteed, and will only be made if we are able to match your room with another occupant.
Please be sure to include the nights that you wish to stay in your email. Requests that include all four nights (August 15, 16, 17, and 18) will be given priority. If you wish to book additional nights before or after these dates, please let as know. Requests for to stay for fewer days will be put on the waiting list.
Please submit as early as possible. Note that only the first 20 rooms are guaranteed. Others will be put on a waiting list in case ASC is able to secure additional rooms at this rate.
The option to reserve rooms directly from the venue may be available after June 1st (if the University Center has rooms available), but at least 20 percent higher than the ASC rate. Nearby hotels are running at $180-225 / night if you book now and will likely increase before the event.
To be guaranteed one of these 20 rooms, please make a request as soon as possible and be among the first twenty to book with ASC through Art Collings at treasurer@asc-cybernetics.org (or otter@mac.com).
Conference Registration
To register for the conference using RegOnline, visit the registration webpage: Registration
Deadline: Early bird registration ends May 1st. ($275 for members, $100 for students and underwaged) 
Paper Submission
Paper and abstracts and abstract submission via EasyChair is also open. To submit abstracts and papers visit our submission site at EasyChair. (You need a free user account to use EasyChair's website.)
Deadline: Abstracts due March 1, 2018. Paper and abstract deadline: May 1st, 2018
Transportation
The venue is located at University Center, 525 South State Street, in the heart of Chicago. There are a number of ways to get from O'Hare Airport to the Conference Chicago. University Center suggests the following:
CTA Train: $2.50 one way fare, with 1, 3, and 7 day transit cards available. The Jackson stop is a 42-minute ride from O'Hare Airport on the Blue Line. From there it is a 0.3 mile walk to the conference site. (Other options exist!)
CTA Bus: $2.25 one-way fare, with 1, 3, and 7 day transit cards available.
Shuttle Services: Go Airport Express. 1 person $37; 2 people: $55; Phone: 773-247.1200; Web: airportexpress.com/
Uber and Taxi Cab services are also available.
Yellow Cab Affiliation: 773.907.0020
Blue Ribbon Affiliation: 800.829.4123
Chicago Carriage Cab: 312.326.2221
Parking
There is a lot adjacent to the University Center and one across the street (the parking runs about $10-$20. See here as well as other nearby lots.
Sights of Chicago
Chicago's downtown and lakefront are among the most beautiful in the worle. Our conference venue is within easy walking distance of Chicago's most famous attractions:
0.6 miles to the Chicago lakefront
For further information please email Michael Lissack, ASC President, Michael.lissack@gmail.com or call 617-710-9565.